Selling the last few items from my wardrobe clean-out at reduced prices. You can see the original listing on my livejournal page. Most of these were procured directly from trips to Japan circa 2009-2011. They are in great condition and have only been worn lightly. Prices are negotiable
Payment:
-All transactions will be carried out on ebay or paypal (or both) for your comfort and convenience. Once you have mailed me with your selected items and we have confirmed order details and agreed on shipping prices I will either send you an invoice or set up an ebay listing for you. Paypal invoices are to be paid within 2 working days

Shipping:
-International shipping is available at buyers cost. I will use Registered International Post and shipping costs are calculated by weight and location. Generally, shipping will range from $35AU for a total item weight of 1KG via Auspost. Insurance is also available at buyers cost. I ship when funds reach my bank account from paypal Message me for shipping quotes

Overview:
-Feel free to message me if you have any queries or offers. Many of these items are half-price or less. If you buy multiple items I may be inclined to give you an even better deal. If you are concerned about feedback and legitimacy, I will make an ebay listing of the items you want so you can have the protection+view my feedback

-All items will be shipped from Australia and all transactions will be processed through Paypal, as we can keep a record and have Buyer/Seller protection. Buyers will have to pay for shipping. PM me or leave a comment with contact details to discuss transactions/offers/sizing/payment/shipping details. Once again, if you wish to buy an item through ebay please let me know as this can also be arranged.

-Most of the h.Naoto tops are made with a lot of space for a draping effect as well as being made of a high-quality Japanese rayon which is quite stretchy in nature so they tend to fit S-L quite comfortably. I've listed them as M though to say they're an in-between size.

-I've tried to depict the items as clearly as possible, but if you would like higher-res images and/or exact measurements please message me

-All sales final. No returns accepted. Happy browsing!
1. Dark Red Rum: H.Jelly "Skin of the Devil" Coat - $95
AU
Bought in 2011 for 45,000Yen, was the last one. Long coat which goes down to knees/calves. Features special 'skin of the devil' finish and hood. Extremely warm; a hefty work of art by h.Naoto. Size M-L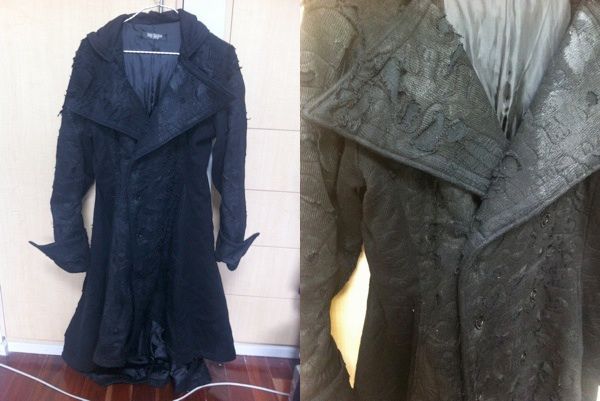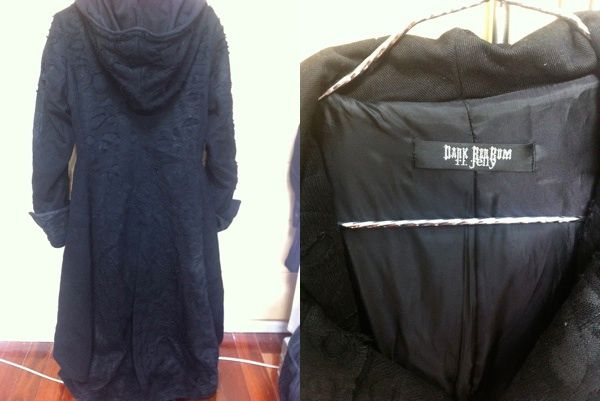 1
2
3
4
2. Naoto Seven Mixed Media Jacket - $90AU
Bought in 2010 for 52,000Yen. Rarely worn, a beautiful piece. Material is thick yet light with a foamy feel on shoulders and elbows. Mixed textures and materials of black. Very wearable in summer as well as winter. Has a sporty vibe. Inner lining is an iridescent "absinthe green" mixed with pink silk/satin accentuated by Japanese katakana characters. Button made of worn metal with regalia-like insignia carved into it. Size is about an M
1
2
3
4
3. Growth Leather Jacket - $65
AU
Made of Polyester, M-L Size.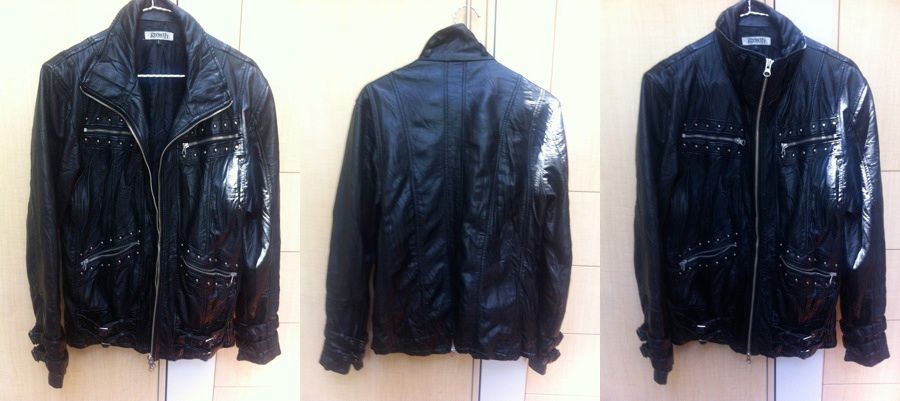 1
2
3
COMES WITH CIVARIZE Treated Jeans. Size 42
AU
Heavy-duty pair of jeans by CIVARIZE. Zippers located at the hems of the trousers can be unzipped to create more of a flair cut to the jeans. Real leather is used at those areas. Slim Cut.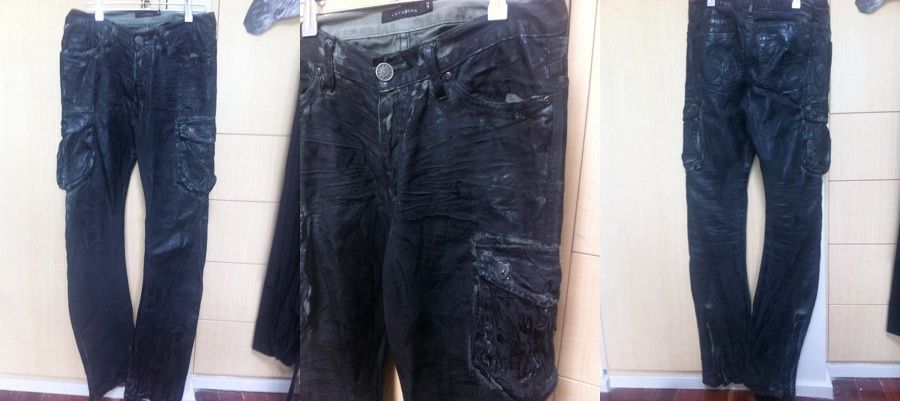 4. Dark Red Rum: H.Jelly Deconstructed Outer with Bat-wing collars - $45
AU
Also bought in 2009 for about 27,000Yen. Features h.Naoto's deconstructivist aesthetic which is quite prevalent under his Dark Red Rum label. Features an elongated zip and bat-wing collars. Sleeves can be detached by buttons so the piece can be worn as a vest. Size S-M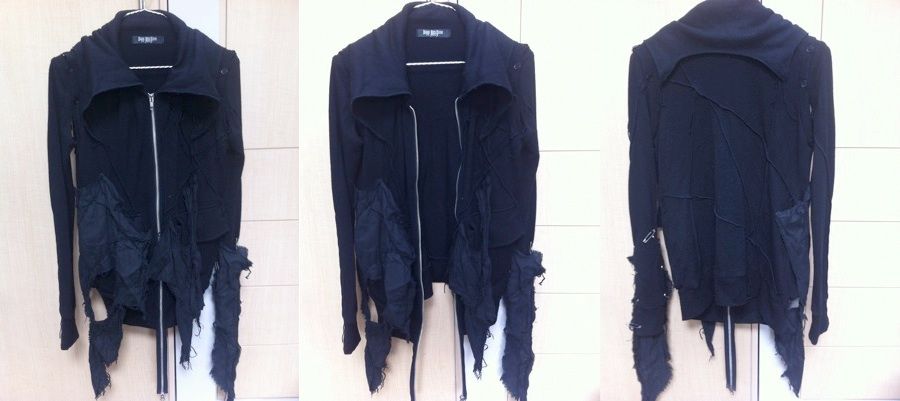 1
2
3
5. Galaabend Luxury Brand Victorian-inspired shirt - $80
AU
Acquired from Galaabend store in the prime fashion location of Ura-harajuku. Beautiful piece, 100% polyester. The material has a subtle luster to it giving it a very watery look. The feel of the garment in your hands even feels a bit like water. S-M fit.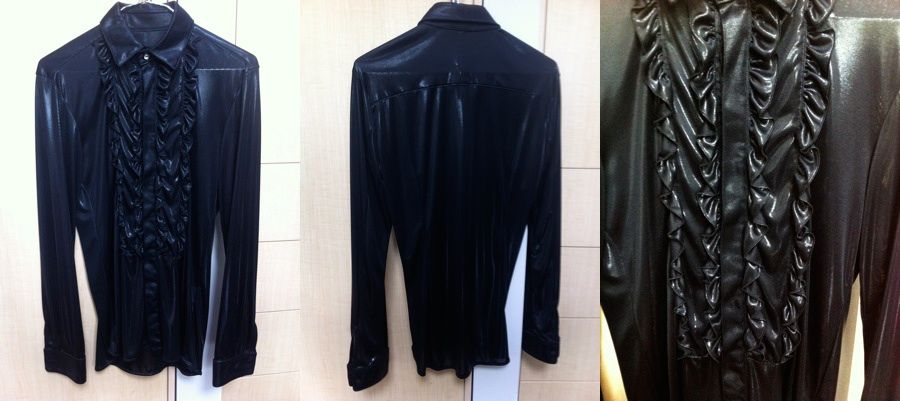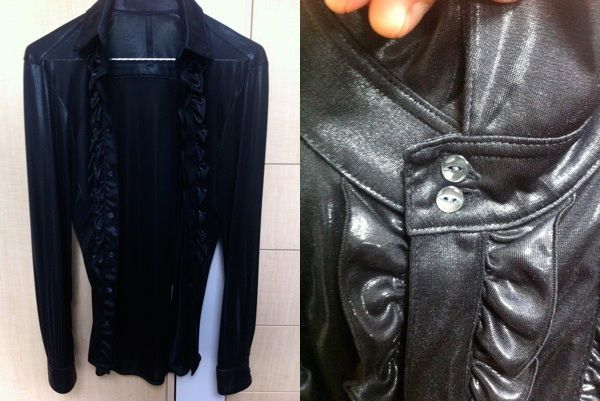 6. Dark Red Rum H.Jelly Deconstructed Buckle Top - $50
AU
This on still has the original tags on it! Once again, deconstructed mixed media. Almost like a work of art as much as a clothing piece. Size S-M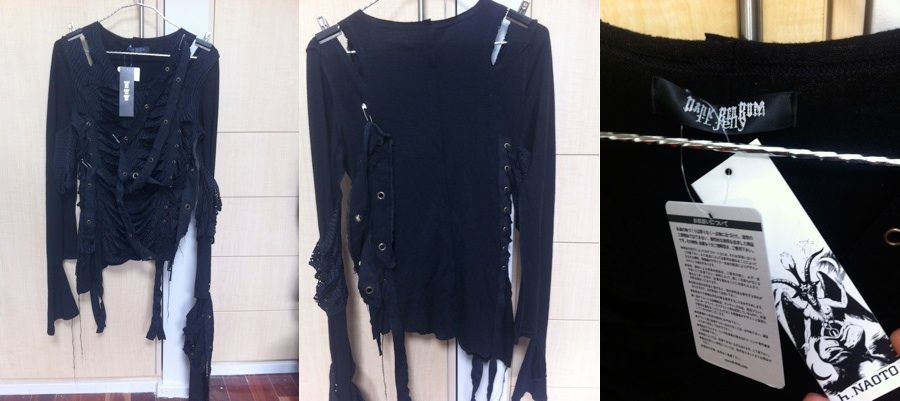 7. Comme Ca Commune Victorian Silk Shirt Size L - $30
AU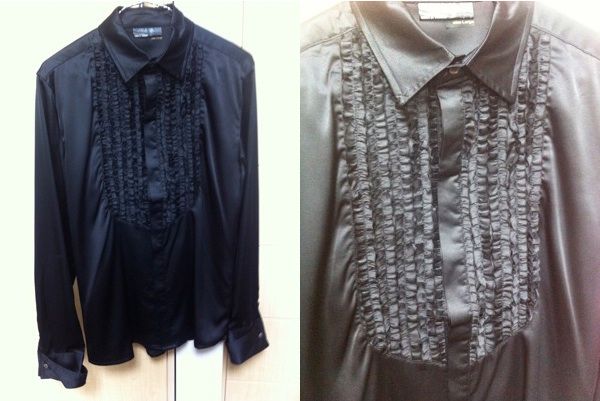 8. Sixh Summer Shorts - $40AU
M Size, Adjustable waist via drawstring. Knee Length.
9. ZABRIESKIE Unisex Patent Leather Vinyl Boots Size 43-44 - $50AU
Bought in Osaka in the Winter of 2010. The boots have a 10cm heel which is partly hidden inside the sole of the boot.